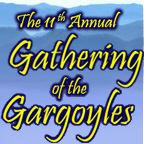 1. What made you want to host a Gathering, and in Pigeon Forge no less?
Nikki: Well, I had been thinking about it for a while, because Pigeon Forge is a big tourist area that I thought everyone would enjoy. And also, through running my campus Japanese Club, I found out that I enjoy organizing fun events for people.
2. Did you grow up in Pigeon Forge?
Nikki: No, I'm a Yankee, born and raised in Northern Illinois, with a little time spent in California and Washington state. I moved to Tennessee in 97,right before I found the Gargoyles fandom. I don't live in Pigeon Forge, though. I'm a little over an
hour away. The town's filled with so much tourist stuff, I'm not sure that many people actually grow up there.
3. What is there to do in the area?
Nikki: ... everything? It seems like it anyway. Dollywood Amusement Park is the main draw, I think. But there are just tons shows; dinner shows, Chinese acrobats, Dixie Stampede, comedy acts, etc. Then there's the museums and similar places like Wonder Works and Ripley's/Ripley's Aquarium. Numerous go-cart tracks and minigolf courses. Shopping centers, bungee jumping, helicopter tours, at least two lazer tag arenas I can think of; practically right across the road from the hotel there's an indoor skydiving place...and that's just what is available off the top of my head. There's also the neighboring towns of Seviereville and Gatlinburg, just a short trolly ride away, with even more stuff.
4. That sounds pretty packed for a "small town." So what is Dollywood, and what is it like to go there?
Nikki: Dollywood's.. a theme park! :D It's one of Dolly Parton's pet projects, and it's really neat, I think. Much of it's got a Southern/Country theme to it, with water wheels and log cabin-looking structures, hand-made soap, candy, crafts, glass, etc. A lot of the park is kind of set into the woods and mountains, so despite all the excitement, there's rest locations and opportunity for a calming nature experience too. There's all the normal kinds of rides you'd find at any other theme park - roller coasters, log rides, and such. They change around their "main draw" ride all the time. Currently it's a new attraction they're opening just before our con arrives called "Mystery Mine", which is supposed to be a real screamer of a coaster that takes you through an abandoned coal mine. The place is just an all-around good time.